Keeping your house clean is hard when you have kids and a husband, heck its hard even if it's just you! Today I am going to give you my ultimate household chores list, and this is going to help you put together a list of weekly chores and monthly chores that need to be done,
Once you have your own household chore list, cleaning your house becomes much easier because you know exactly what needs to be done!
Once you start to break your chore list into daily, weekly, monthly and quarterly tasks, life becomes much more manageable and easier.
You can print out this ultimate household chore list, write out your daily household chores and put it on the fridge. So when you find yourself with some time, you know which daily household chores you need to do!
Doing household chores is a necessary part of life, but it doesn't always have to be a drag.
As a mom of two teenage kids, there's always household tasks that I need to get to. Whether it's laundry, or making dinner, or vacuuming, there is a list of weekly chores that are always waiting for me.
Sometimes when I actually have some time, It takes me a while to figure out what daily household chores need to be done!
My guess is that happens to you too!
So, I created a list of household chores list that tells me exactly what I need to work on today!
.A household chores list is a comprehensive list of all the tasks that need to be done to keep your home clean and organized. It includes everything from daily tasks like making the bed and doing the dishes to weekly and monthly tasks like cleaning the bathrooms and dusting the furniture.
*This post contains affiliate links. Full disclosure here.
Why Create a Household Chore List?
When you create a ultimate household chore list, you can break down the tasks into manageable chunks and ensure that nothing gets overlooked.
Plus, having a list can help you stay motivated and on track, even when you're feeling overwhelmed.
Believe it or not, having a list of household chores is going to help you to keep your house clean.
I like having a clean home, and I find the best way for me to do this is for me to keep track of what needs to be done on a regular basis.
Look, none of us enjoy cleaning our homes, I know I don't, but having a system in place helps you to get the job done without too much hassle.
Let me share with you some benefits of having an ultimate household chore list :
Having a list of daily household chores helps you to know exactly what daily chores need to be done. So if you find yourself with an extra 30 minutes, you can look at your list of household chores, and pick out chores that will take about 30 minutes to complete, or 15 minutes, depending on how much time you have.
Creating a weekly cleaning schedule lets you know what weekly household chores you need to tackle in the coming week.
Crossing chores of your weekly household chores list helps you to feel empowered. By writing them down and crossing them off as you go, you not only have a better idea of what needs to be done, but you'll also feel empowered as you complete each item on your chore chart.
Having a list of family chores helps you to assign tasks to various family members. Yes, even the littles can take on certain chores like picking up toys and putting clothes in a hamper! It's an easy way to keep yourself (and your family members) accountable for doing their daily household chores!
Having a weekly chores list lets everyone in the family know just how much there is to be done around the house. Sometimes your spouse doesn't know how much work it takes to get a home clean. Having this household chore list tells him exactly what it takes!
Get the kids involved. I'm a huge believer that kids should start doing chores when they are little. My son loved pushing our laundry hamper to the washer when he was little. I assigned them both chores, and they loved feeling important with their name and chore together.
Makes boring routine chores more fun! I know it sounds weird, but trust me on this. When you add a little flare to completing household tasks (think: using cute stickers to mark tasks as 'completed' or listening to an upbeat playlist while you clean), it has the power to shift your perspective on doing them from being tedious to something you actually don't hate doing!
I truly believe having a household chores list can be a game-changer when it comes to getting and keeping your home clean! Having a chore list helps you stay accountable, boosts productivity, and encourages the whole family to get involved. If you tackle cleaning like it's a fun thing, the kids will see it that way too!
Give it a try and see how it can benefit you and your family.
How to Create a Household Chores List
Keeping your home clean and organized can be overwhelming, especially if you have littles running around.
Today I am going to help you create the ultimate household chores list. Having a chore list is going to make your cleaning life so much easier, I promise.
From this chore list, you can then create a list of daily household chores, weekly chores list, and monthly chores. You can also create a seasonal chores list such as spring cleaning, winter cleaning checklist etc.
Here are some steps to help you create a list of household chores that works for you.
Assess Your Needs
The first step in creating a household chores list is to figure out all the chores that need to be done in your home. You can grab a piece of paper and start writing down chores you know need to get done in your house. This can also be done on your phone.
Don't worry too much about this, because I am going to give you the ultimate list of chores that you can pull from to make your own, or you can just use mine.
I promise you, I'm going to make this super simple for you. I lknow how little time you have and in case you haven't figured it out yet, I LOVE making lists.
Make a list of all the rooms in your home and the cleaning tasks that need to be done in each room. Be specific and include tasks like dusting, vacuuming, and wiping down countertops.
This can include daily, weekly, monthly, and even seasonal chores. Once you've finished your brain dump, categorize the chores into different groups (e.g. kitchen, bathroom, laundry, etc.).
Determine Frequency
Once you have identified the cleaning tasks that need to be done, the next step is to determine how often they need to be done.
Some tasks, like making the bed, need to be done daily, while others, like deep cleaning the bathroom, can be done on a monthly basis.
If you're not sure, I'm going to help you with that also.
Assign Tasks to Family Members
As I mentioned earlier, I think it's important that kids get involved with chores at an early age. I also think it's important that your spouse does their fair share of the family chores too.
You probably know by now that no-one is willing to step up and take care of any daily chores unless they are assigned to them
Watch what a difference having a chore chart is going to make for you.
Always remember, Cleaning your home is not a one-person job.
Getting your family involved helps to lighten the load, and it also teaches responsibility and teamwork.
Remember to always make sure everyone knows what is expected of them.
Create a Schedule
Now that you have identified the cleaning tasks and assigned them to family members, it's time to create a schedule.
Use a calendar or planner to map out the cleaning tasks for each day of the week.
Be realistic and don't overload yourself or your family members with too many tasks.
If you have a busy day where you have to take your daughter to ballet class, or your son to baseball and go grocery shopping, don't assign a lot of personal chores that day, because you're already overloaded!
I recommend just a couple of cleaning tasks a day.
If you overwhelmn yourself with too many tasks in one day, you will demotivate yourself to do anything daily chores on your list.
Remember, the goal is to make cleaning your home more manageable, not overwhelming.
Creating a household chores list may take some time and effort, but it will pay off in the long run. By following these steps, you can create a cleaning plan that works for you and your family.
Your Ultimate Household Chores List
As mentioned above, I am going to break this this list of household chores into room by room. From there I am going to break it down further into daily chores, weekly household chores, and monthly chores!
Some of these chores will take a few minutes of your time, and some, will obviously take longer!.
Before we get started, here is my nighttime cleaning routine, this really helps me to start my day on a good note, I think it can really help you too. My list of 5 minute cleaning tasks is super helpful too.
Okay here we go.
Your List of Daily Chores
Daily chores are things that must be done on a daily basis such as emptying the trash, making your bed, washing dishes.
It does not include cleaning your bathroom, or doing laundry every single day. Now you may need to do laundry on a daily basis. I don't thankfully. Take a look at my best tips for getting laundry done easier.
Making your bed.
Putting dirty clothes in the hamper (The younger kids can do this one too).
Washing dishes.
Loading and unloading the dishwasher.
Filling up your coffee maker for the morning.
Feeding and walking your pets (this is a great chore for older kids).
Preparing and cooking meals. (Older children can assist with this chore).
Checking the mail and getting rid of junk mail.
Wiping down high chairs after use.
Taking out the trash (This is a great chore for older kids).
Wipe down kitchen countertops.
Sweep or vacuum the kitchen floor (I like to use my trusty iRobot to do this chore)
Setting the kitchen table for meals.
Making school lunches.
Here is a list of daily chores your kids can easily do
Obviously this will depend on the ages of your kids and what they are capable of. Younger children can certainly take on some chores that will help them to learn responsibility.
Make the bed.
Put dirty clothes in the hamper.
Pick up toys off floor.
Empty and refill a dishwasher (this is my daughter's chore every day).
Help pack lunch.
Dress themselves.
Pack their school backpack.
Take dirty dishes to the kitchen sink.
Wipe the kitchen table.
Sweep kitchen floors.
Wipe the bathroom sink after brushing teeth.
As you can see there are a lot of chores for younger children to do. I found that a chore chart works well, and lots of praise!
Weekly & Monthly Household Chores
With these weekly and monthly list of chores, I am going to break them into the different areas of your home to make it even easier for you.
Keeping on top of your weekly and monthly chore list will help you to get and maintain a clean and calm home.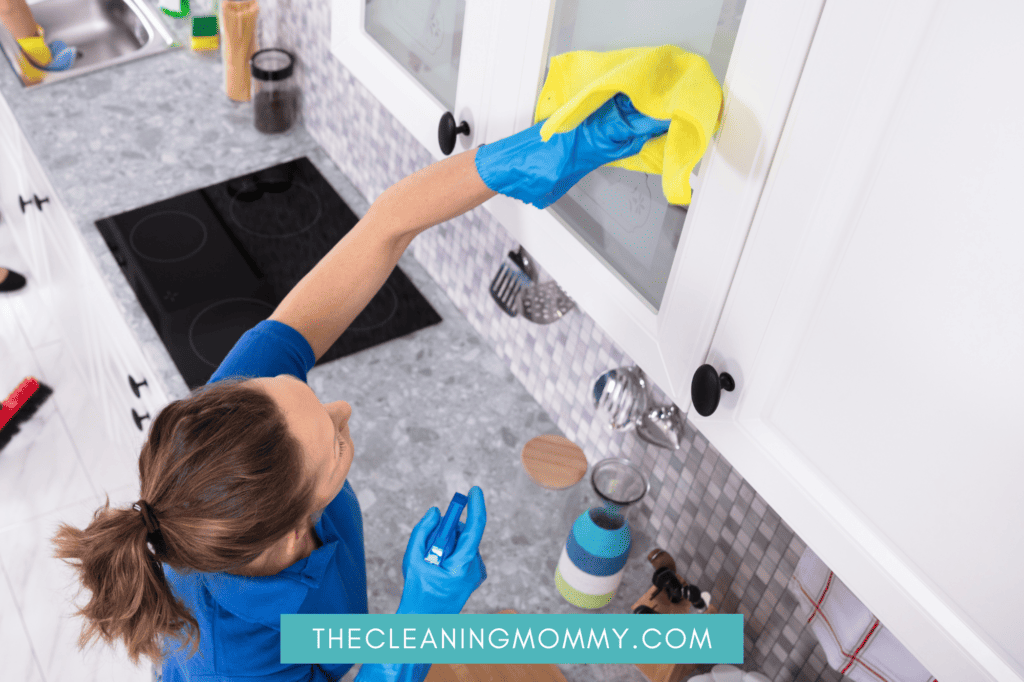 Weekly Chores for the Kitchen
The kitchen is that area of your home that is used the most, so naturally it tends to get dirty pretty easily.
Using a chore list will help keep your household running smoothly.
Here is my weekly list of kitchen chores:
Wipe down kitchen cabinets
Remove expired food from your fridge.
Send a sink full of hot soapy water down your garbage disposal.
Clean the microwave.
Fill up snack baskets in the pantry (My kids do this)
Make a grocery list
Vacuum and mop the kitchen
Disinfect the sink and faucets.
Launder your dish towels.
Clean the stovetop.
Monthly Kitchen Household Chores Checklist
It's important once a month to give your kitchen a good deep cleaning, here are some monthly chores to add to your to do list.
Deep clean the oven.
Remove all expired food from your fridge.
Deep clean your fridge.
Remove expired food from your pantry and add supplies needed to your grocery shopping list.
Deep clean the outside of your kitchen cabinets.
Deep clean the microwave.
Dust the top of the cabinets and the fridge.
Sanitize your trash can.
Clean the inside of your dishwasher.
By breaking up your household chores into manageable tasks based on daily, weekly and monthly cleaning type tasks, your house will stay nice and clean and definitely more sanitary.
And remember to delegate some of these tasks to a family member.
Weekly Bathroom Chores
Nobody enjoys cleaning the bathroom, but it has to be done.
I stopped cleaning the kids bathrooms when they were ten. I, oversee their cleaning to make sure it gets done properly, but I no longer clean it.
Your kids are well able to do their own cleaning
If you clean your bathroom on a consistent basis, you will find there is not as much to clean on a weekly basis.
Disinfect and clean the toilet bowl and the outside.
Disinfect and clean the shower and tub.
Clean the mirrors.
Vacuum and mop the bathroom floor.
Stock up on toilet paper (A child can do this).
Wipe light switches.
Wipe down hard surfaces.
Clean the bath mats and towels. ( I clean towels 2x week).
Empty the trash.
Monthly or Seasonal Chores for the Bathroom
Deep clean the bathroom.
Clean the baseboards and bathroom tiles.
Clean the drains.
Wash the shower liner.
Check your medicine cabinet for expired medication.
Do air filters need replacing?
These household tasks are manageable when you break them down into daily, weekly, monthly tasks, you can ensure that your bathrooms stay clean and fresh.
Weekly Living Room Chores
As the place where you entertain visitors, or hang out with your family relaxing, your living room needs to be kept clean(ish) and tidy(ish) all the time. But, that doesn't mean spending hours on end cleaning and organizing every nook and cranny every day.
Rather, having a weekly and monthly living room chores list can help ensure that your living room stays cozy and inviting.
Here are some weekly living room chores you can follow to keep your living room spic and span.
Dust all hard surfaces.
Remove all trash. (This is a great chore for the kiddos).
Clean up pet toys and put in A basket. (Younger children can help with this chore).
Polish furniture.
Dust and clean ceiling fan.
Dust any knick knacks.
Dust fireplace mantel.
Dust shelves and table lamps.
Fold throw blankets and puff up throw pillows.
Monthly Living Room Chores
Remove couch cushions and vacuum.
Launder throw blankets and spot clean pillows.
Dust ceiling and walls.
Wipe light switches, door frames and door knobs.
Clean all art decor
Clean window treatments.
Wash any removable couch cushions.
Bedroom Weekly Chore List
There is nothing better than walking into a clean bedroom at the end of a long day.
At the same time, there is nothing worse than walking into a cluttered, untidy room after dealing with kids all day long.
Keeping your room clean(ish) is not terribly difficult if you break up the tasks into weekly and monthly chores.
Here is a list of weekly chores for your bedroom.
Wash all bedding.
Dust all hard surfaces.
Dust your ceiling fan.
Pick up any dirty clothes on the floor and put them in your hamper.
Dust any picture frames, knick knacks, and art decor.
Clean mirrors.
Sweep or vacuum bedroom floors.
Remove any trash.
Remove things that don't belong in your bedroom.
Weekly Chore List for Kids Bedroom
Strip beds for laundry.
Help to make their own bed.
Pick up toys and anything else that should not be on the floor.
Pick up dirty clothes off the floor and put in the laundry hamper.
Dust shelves and hard surfaces.
Remove anything that should not be in a bedroom.
Put away clean laundry.
Monthly Chores for Bedroom
Once a month I like to do a deep clean in my bedroom and pull out the furniture and get behind and under the bed and give it a good clean.
This is what a monthly chore list for your bedroom might look like:
Dust the ceiling, walls and floors. (Pull your bed away from the wall).
Wipe all light fixtures, door knobs, and doors.
Remove and wash any window treatments.
Clean your mattress and turn it over.
Clean all baseboards.
Declutter your closet.
Daily Chores for Dining Room
This chore may be a little different for you based on what you use this room for. If you eat in your dining room daily, then it will need to be cleaned on a daily basis.
However, if you use it only on special occasions, then I would recommend following the monthly chore list.
Remove any dirty dishes left out. (A child can do this).
Wipe down the table and chairs. (Another great kid chore).
Remove any trash. (Great chore for the kids).
Sweep or vacuum the floors.
Weekly Chores for Dining Room
Here's my weekly dining room chores that you can use as a guide in keeping your dining room clean and beautiful.
Remove knick knacks and dust all hard surfaces. (The kids can help with this task).
Clean mirrors.
Clean window sills and windows. (My son does this for me)
Wash placemats.
Wipe down table and chairs. (Easy chore for a child).
Shake out any area rugs.
Sweep or vacuum and mop floors.
Dust all light fixtures.
Other Miscellaneous Chores
Outside of the different areas of your home, there are other household chores that need to be done.
Take out the weekly garbage can for pick up.
Watering plants.
Change water filters.
Deep clean your carpets every quarter.
Clean out and vacuum the car
Tips for Maintaining Your Household Chores List
So now you have your ultimate list of household chores, this will really help you to keep a clean(ish) home moving forward.
When I say clean(ish) home, there is just no way for us to have a completely clean home all of the time.
I don't want you spending time cleaning your house instead of having fun with your kids.
So, clean(ish) will have to do for now.
Checkout my nighttime cleaning routine, this will help you tremendously to get your morning off to a better start when you have littles.
Here are some tips to help you maintain your list and keep your home in order.
Be Flexible
Remember that life is unpredictable, and your household chores list should be flexible enough to accommodate unexpected events and changes in your routine, such as a child falling ill.
Don't be too hard on yourself if you miss a task or two, and don't hesitate to adjust your list when necessary, and add the missed chore to the following week.
Reward Your Family
Encourage your family to help you with household chores by offering rewards for their hard work. This could be something as simple as a treat or a movie night, or you could create a system of points that can be redeemed for bigger rewards.
Whatever you choose, make sure it's something that motivates your family to pitch in and help, and don't make it over complicated.
Reassess Your List Regularly
Your household chores lists should be revisited regularly. You may find that a monthly chore should be
Take some time every month or so to reassess your list and make any necessary changes. You may find that some tasks are no longer necessary, or that you need to add new tasks to keep your home running smoothly.
Here are some additional tips to help you maintain your household chores list:
Break down larger tasks into smaller, more manageable ones. Use a calendar or planner to keep track of your tasks and deadlines. Involve your family in creating your household chores list so that everyone has a say in what needs to be done. Prioritize your tasks based on their importance and urgency. Don't forget to give yourself a break every now and then. Self-care is just as important as taking care of your home.
Congratulations! You have now learned about the ultimate household chore list and how to keep your home clean and organized. By following the tips and tricks provided in this article, you can create a cleaning schedule that works for you and your family.
Remember to break down your chores into daily, weekly, and monthly tasks, and assign them to specific days of the week. This will help you stay on track and avoid feeling overwhelmed.
Please make sure to involve your family members in the cleaning process. Assign age-appropriate tasks to your children, and make cleaning a fun and rewarding experience.
Finally, don't forget to take breaks and reward yourself for a job well done. Whether it's a relaxing bath or a night out with friends, make sure to prioritize self-care and enjoy the benefits of a clean and organized home.
Other Cleaning Articles You May Like: