As a busy mom, you know that life can get hectic pretty quickly! Between work, taking care of the kids, and managing everyday tasks, it's hard to find the time to keep the house clean and tidy. That's why I came up with a busy mom cleaning routine that actually works!
I like my home to be clean but when things start to pile up, my anxiety kicks in and nothing gets done at all. It's hard as a working mom, to find the time to get cleaning tasks taken care of, spend quality time with the kids, AND get dinner on the table!
That's basically analysis paralysis.
Today, I'll share a realistic cleaning schedule to help you know how to always have a clean house, despite your hectic work life.
Like most busy working moms, you're likely struggling with figuring out how to keep up with cleaning and still tend to your family and work responsibilities.
Or you're probably tired of dedicating all your precious spare time to housekeeping and are looking for a way out.
As a working mom myself, I know how overwhelming it can get when you have to carry both work and endless housekeeping responsibilities on your shoulders. And if you don't know how to strike a balance, I hate to say this, but burnout may become a thing.
That's why having a printable cleaning schedule for working moms is important. You'll know what chores to tackle, and when to tackle them.
Read on to familiarize yourself with the best cleaning schedule for working moms to make your everyday life much easier.
Good luck, mamas!
How to Create a Busy Mom Cleaning Routine:
Prioritize what you want to get done.
Always declutter first.
Schedule cleaning time daily.
Start slowly.
Get your family members involved in cleaning your home.
Follow the one minute rule.
Break the claning chores into smaller manageable tasks.
Use a timer.
Use a cleaning caddy.
Get cleaning tools that help you work faster.
*This post contains affiliate links. Full disclosure here.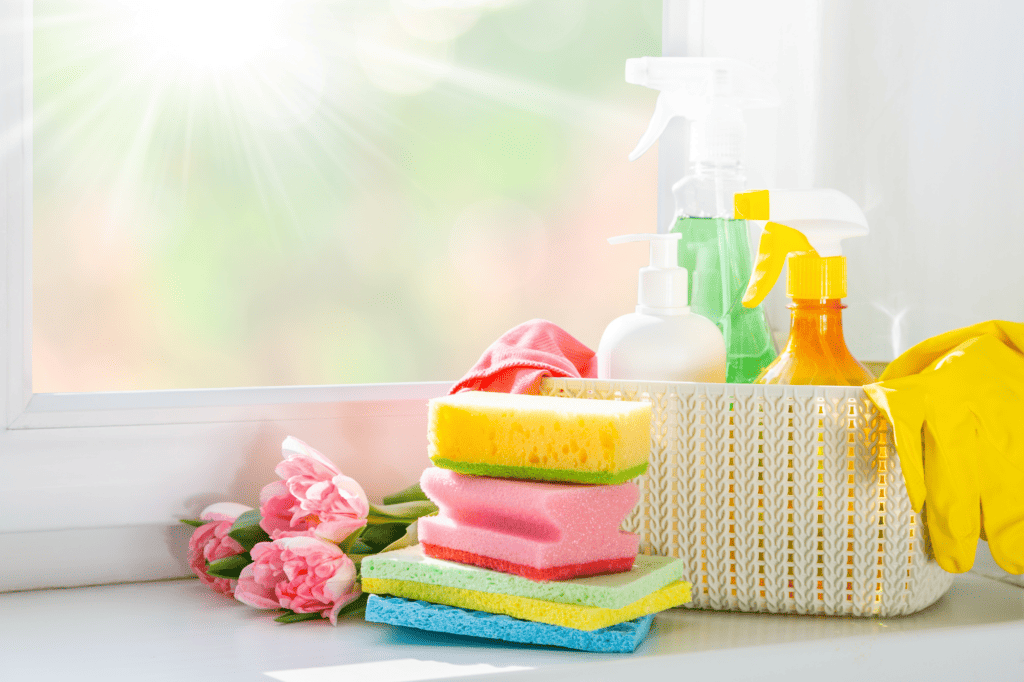 How Are Working Moms Able to Keep Their House Clean?
I have tried every cleaning schedule I could find and printed out binders full of routines and motivational quotes to help me get my butt into a regular cleaning schedule and that kind of overwhelmed me even more.
That's when I had the idea to create a new cleaning schedule. One that worked for ME.
And once I was able to come up with a weekly cleaning schedule solution that was tailored to me and my life as a busy mom, things became more simple.
Using this new cleaning schedule, I can now keep up with my housework, my kids, and my weekly and monthly tasks, AND keep a clean house!
This article isn't just about the perfect daily cleaning routine, it's about making a cleaning schedule for working moms and a routine that works for you,
You need to figure out what works well for you to help you to clean your messy house.
Even for those work-from-home moms who always seem to have everything in order better than you, their secret weapon is just that — a working mom cleaning schedule that fits their situation.
Like a hamster stuck on a wheel, it's like there's never an end to housekeeping when you're a working mom.
But that doesn't mean you should tackle everything at once in an effort to keep your house clean. And neither is it a great idea to put any form of cleaning on hold as you wait for the "perfect time" to clean your messy house.
Believe me I've tried – there isn't one!
Relying on a cleaning schedule for working moms is a game changer because you'll have an idea of what tasks to complete on a daily, weekly, and monthly basis. That way, you'll manage to have your house clean every day despite your busy work life.
The Best Cleaning Tips for a Working Mom
As working moms, we all want to have a clean home, be there for our family members, and still give our messy homes the attention they deserve.
Here are life-changing tips that will help you maintain an organized home and save your busy self from feeling too overwhelmed with housekeeping responsibilities:
Tip #1 Prioritize what you want to get done
Even though coming back to a tidy home is something you and every other working mom desires, that doesn't mean you must spend hours cleaning your house every other day (Who wants to do that).
You need to prioritize cleaning tasks so that you can avoid always tending to chores that suck up your time and energy every day. If you don't know how to go about prioritizing tasks in your to-do list, ask yourself these questions:
What chores will make me feel less stressed?
Which chores do I truly want to accomplish?
What chores don't need to be done right now?
What I'm trying to say is, clean on your own terms — prioritize chores according to how much time you have, what chores you'd feel super relieved accomplishing, and what chores won't ruin your entire day because of how energy-consuming they were.
Sounds good?
Let's keep going
Tip #2 If You Need to Declutter, Always Do This First
As long as you have kids under your roof, I'm pretty sure decluttering is going to be part of your cleaning schedule. Before you clean any room in your house, ensure you declutter it first.
It's a golden rule in the cleaning world, which you should follow because decluttering first will help you clean much faster.
Think of it this way — if you're vacuuming your cluttered bedroom floor, wouldn't you feel frustrated pausing every three seconds to remove each piece of clutter you come across?
So, if you have a huge list of chores, make sure decluttering is at the top. If you need help decluttering, check out this article on how to start decluttering.
Tip #3 Schedule Cleaning Time Every Day
I like to say, tackle a little every day.
For your home to look clean and organized every other day, you must work on it daily. Create a daily cleaning routine that isn't too overwhelming.
Completing simple daily chores, like a quick decluttering session, for instance, will make a huge difference in your home's cleanliness.
And it's important that you don't overschedule your day. Otherwise, you'll end up feeling too exhausted to focus on other work or family responsibilities.
Don't make a cleaning schedule where you have to clean 2 hours every day. No-one wants to do that, it becomes too overwhelming, and you will be put off cleaning before you even begin!
That's why a realistic cleaning schedule for working moms can make a huge difference in your life!
Changing your morning routine to incorporate some daily cleaning tasks may help.
Maybe you could get up 15 minutes early and get the dishwasher emptied before the kids get up!
Or maybe a nighttime routine night work better for you, mine helps me to get setup for the morning in the best way!
Tip #4 Start Slowly
The only sure way to tick off all the tasks in your house cleaning schedule is to start slowly as you work towards other bigger tasks.
Don't jump right into time-consuming chores — finish the easy tasks first.
That way, even if you quit the exhausting chores halfway, you'll be glad you already accomplished something (completing the easy tasks) and not beat yourself up for not getting everything done.
Here are some easy cleaning tasks you can tackle in 15 minutes or less.
Wiping down your kitchen countertops.
Clean the toilet bowl.
Put a load of laundry on.
Vacuum a room.
Make beds.
Tip #5 Get your Kids and Spouse Involved in Cleaning
Having a system where your family members, including small children, are involved in your cleaning schedule has its benefits, for them and for you.
It will take the solo cleaning burden off your shoulders, make cleaning time more fun, and nurture your kids to become responsible people.
Here are a few examples of chores you can delegate to your whole family:
Let your spouse help with folding laundry, emptying the dishwasher, or cleaning your pet's litter box and food bowls
Introduce your kids to putting clothes in the hamper and doing their own laundry (older kids), and making their own beds.
Let your kids tidy their own room.
Ensure they pick up scattered toys and place them in their designated basket after use
Have your kids or spouse take the trash out.
When my son was a toddler, he absolutely loved pushing our laundry cart to the laundry room. He felt like he was helping mommy (which he was), I could tell he was super proud of himself.
Now my kids are 12 and 13 years old, and they can do a lot more. My daughter empties the dishwasher every morning, and fills it back up. My son vacuums and mops the entire house every Saturday. He also takes out the trash, and they are both responsible for keeping their own rooms clean. They also do their own laundry if they have time.
I think it's important that my kids know how to do their own laundry. I don't want them getting to college and having no idea how to do anything.
I am a working mom, and there are only a certain number of hours in the day to get cleaning tasks done. I don't want to spend my weekend cleaning, so their help is essential.
As working moms, it's important that we get some down time too, and get to hang out with our family. So it's absolutely essential that we have help with accomplishing our cleaning schedule.
Tip #6 Follow the One-Minute Rule
The one-minute rule is quite straightforward — if a particular task can take you a minute or less to complete, sort it out right away.
This rule may seem unnecessary, but you'd be surprised at how effective it can be when applied.
I'll explain.
Let's say you had a pretty chaotic morning where you just couldn't decide what to wear. You left a couple of clothes on the floor after changing a few times, and that's the first thing you see when you enter your room that evening.
Instead of dumping the clean clothes on your bedroom chair to fold some other day, fold and place them in the closet immediately — this will only take a minute or less.
But if you simply ignore the mess (leaving the clothes on the chair), you'll be tempted to repeat this process the next morning when you're torn between what to wear.
By the time the weekend arrives, you'll have a pile of clean clothes sitting on your bedroom chair. And that means you'll spend so much time fixing the mess.
The one-minute rule will save you the trouble of doing bigger clean-ups later.
I do the same when I bring mail into the house, I open it straightaway and decide where it goes.
Tip #7 Break Your Cleaning List Into Smaller Chores
To avoid constantly postponing doing certain chores because they seem too overwhelming, get into the habit of breaking up your to-do list into small tasks.
For instance, instead of simply stating, "Clean all windows," write something like, "Clean living room windows today, or organize pantry top shelf, and so on.
This trick will help you visualize the bigger task in your cleaning schedule as manageable chores you can complete "one by one." It will be easier for you to get started, which is better than postponing the entire task altogether.
Doing this is a huge help for working moms who are trying to keep a clean home!! Cleaning the living room window might take 5 minutes, but cleaning all the windows will take a lot longer!
Tip #8 Use a Timer and Only Focus on One Thing
Ever heard of a concept called time blocking?
It basically involves setting a reasonable time limit to complete a particular task and fully concentrating on that one task within that time frame.
It's a great concept for a busy working mom as it gives you a "false deadline" — it will push you to focus on accomplishing specific chores without letting anything else get in the way. That way, you won't always feel like you've wasted a whole day by not doing any chores.
Besides making you feel accomplished, time blocking will also free you from the urge to leave one task incomplete, only to switch to another, then leave it halfway as well….and the cycle continues.
Here's how it works.
With time blocking, you'll get "in the cleaning zone," where you're 100% productive. You'd rather focus on and complete two or three chores than do "nothing" ( and by nothing, I mean hopping from one cleaning task to another without really completing each of them).
If the time limit for a certain chore is several minutes long, it's okay to take a short break, then get back to the task.
Here's an example: Set a timer for 15 minutes and start working in the nursery.
Here are little cleaning tasks you can focus on for 15 minutes, but when the timer goes off, you're done, walk away!
Change the sheet on the crib mattress.
Get rid of or donate baby clothes that no longer fit.
Vacuum floor.
Pick up any toys, books, or anything on the floor.
Organize or refill supplies you need (diapers, wet wipes etc)
Adding similar tasks to your cleaning schedule for working moms will benefit you greatly, because you will know what to do when you have some free time.
Tip #9 Make Use of Cleaning Caddies
When you've fully immersed yourself in a particular task — you know, music on full blast, scrubbing as you bust a few moves, no distractions whatsoever — the quickest way to burst your cleaning bubble is going back and forth to search for your favorite cleaning product or equipment because you can't seem to recall where you placed it last time.
It happens to the best of us…..
A cleaning caddy is simply a holder where you keep all the supplies you need for cleaning a particular area in your house.
With a caddy, you'll carry all the supplies you need at a go, which is a great thing since you won't make several trips to different rooms in the middle of a cleaning session trying to retrieve your supplies.
It's a game changer to have a cleaning caddy for each area.
For instance, have a caddy with all your bathroom cleaning supplies (which you can then store in a convenient spot around the bathroom), another one that strictly has all your kitchen cleaning supplies, and so on.
Having everything you need where you want them, when you want them — Perfect!
If you have a large house, you could have a couple of cleaning caddy's – one in the kitchen, and one upstairs in a bathroom.
Tip #10 Have Cleaning Tools that Help With Faster Cleaning
Get yourself cleaning supplies that will help you carry out your chores quickly and efficiently.
With a hectic work schedule and family to care for, who wants to spend the whole day cleaning?
And the best thing is, these time-saving cleaning tools are a click away — I use Amazon a lot, because I can shop in my pajamas..
Consider signing up for Amazon's subscribe and save program, so you never run out of your favorite household cleaning supplies.
For instance, I can't even imagine life without my long-handled microfiber dust mop and iRobot vacuum cleaner.
With such a long-handled dust mop, it will be easier for you to clean your ceiling and light fixtures faster and without too much struggle.
And with an iRobot vacuum, you'll get to easily clean areas on your floor that your stand-up vacuum can't reach. I also use my iRobot to vacuum the floors in a room! It takes me 5 minutes or so to pick everything up off the floor, and then he goes to work for 45 minutes to 1 hour, and does a great cleaning job – saving me time!
I also like to use Amazon subscribe and save, because I can set up a schedule of when I want to receive my cleaning supplies, and then I don't have to think about it again! Amazon will send my supplies, and this way, I never run out of what I need.
What Is a Good Time for You to Clean?
The truth is, there's no clear-cut answer to this, as it depends on your personal schedule.
If your mornings aren't packed with too many obligations, commit to doing a bit of cleaning and organizing in the mornings before you begin your full time job. But if you hardly ever find time to do quick clean-ups in the morning, you can do so during the evening hours.
The most important thing is to have a daily routine — it doesn't matter whether you prefer to clean in the morning or evening hours.
Be smart when it comes to figuring out what time works for you. You can easily fold clothes while watching tv at night, or clean a kitchen sink in the morning before you leave the house. Wipe down the surfaces in your bathroom before you go to bed or before you go to work.
When you are creating a schedule for working moms, you may need to try a couple of different schedules to see what works for you.
How to Create a Busy Mom Cleaning Routine that Works for You
I know all too well the stress that comes with trying to decide when and what to clean as a work at home mom. That's why I have no doubts that having an easy cleaning schedule (and sticking to it) will make a huge difference in your life, as you juggle work, family time, and housekeeping.
And since I acknowledge every busy mom is different, feel free to incorporate this schedule at a time that's most convenient for you. It's essential that you have a cleaning schedule work for you!
What I mean is, if you're a morning person and have more free time to do a few chores before getting ready for work, follow this schedule for your morning clean-ups. If you are most energetic during evening hours, refer to this schedule for your evening clean-ups.
Daily Cleaning Schedule for Working Moms
Having a daily routine will help prevent mess build-up in your house. And the good thing is, these daily cleaning tasks only take a few minutes to finish, and will help you to have a tidy house.
In this schedule, I've simply listed typical daily cleaning tasks you can handle when you're short of time. Feel free to add other quick tasks to your daily cleaning schedule.
These are chores you can finish in less than thirty minutes! That's why I highly recommend having a daily routine — you'll be at peace at work knowing you left a few things looking clean and tidy
Daily Tasks to Focus on Every Morning:
Starting your day in order by making the bed will put you in the mood to conquer other smaller tasks ahead. Plus, you'll be glad you did so when you finally walk into a neatly made bed after a hectic long day.
Wipe Down Sink After Brushing Teeth
Once you're done brushing, give the sink a quick wipe-down using a clean microfiber cloth (or a soft sponge) and liquid dish soap.
These daily clean-ups will ensure your sink isn't encrusted with dry toothpaste spills or grime that will take time to remove when you finally decide to deep clean it.
Empty any clean dishes that you loaded into the dishwasher the previous night.
Instead of letting the used utensils sit on the table after breakfast, toss them in the dishwasher and wipe any spills on the table before you head out for work. This means you don't walk into a hot mess when you get home from work.
After Work:
When you come home from work (or if you take a short break while working from home), here are some household chores you can complete within minutes:
Load laundry in the washer and let it run as you do something else.
Take about five minutes to vacuum a really dirty room. Don't stress about making the floors looks sparkling or cleaning the baseboards — just clear the visible dirt.
Quickly wipe down fridge shelves using a clean microfiber cloth dampened with water. Don't worry about soaking the removable shelves and rearranging items in the fridge (save this for deep cleaning day).
Have the kids help to pick up toys off the floor, and put them in their proper place.
In the Evenings
Here are a few more tips on things that can be accomplished in the evening.
Fold laundry as you watch tv
When you settle down to catch up on your favorite show in the evening, consider folding one load of laundry while you watch TV. You'll be surprised at how fast you've completed this chore.
Rather than leaving toys scattered everywhere, have your kids pick up all the toys lying around and toss them in their toy basket before they go to bed. Getting them to do this on a daily basis will help get them into a regular routine.
Fill up a washing machine with a new load
Add a new load of laundry into the washer, and let it run. All that will be left to do is switch the clean load to the dryer in the morning. I do this with towels, kitchen towels, socks etc, because I don't care if they sit overnight.
Finding time to clean your laundry daily will ensure you don't spend time cleaning a huge load of dirty clothes at the end of a busy working week.
Fill up and start your dishwasher (plus wipe the kitchen counters)
If there's a stack of dirty plates in the sink, load them in the dishwasher, then quickly wipe down any mess on your kitchen counters.
Weekly Cleaning Schedule for Working Moms
These weekly cleaning tasks may take a little longer. That's why it's best if you do one weekly cleaning task per day. Over the course of the week, you will effectively clean the whole house.
Incorporating this weekly schedule is a great idea, as it will help you ensure you don't have so many exhausting chores to tackle during the weekend, when it's family time. Believe me, that makes a big difference!
You can do each weekly task in the morning or evening hours, your choice, as long as it gets done on a weekly basis, it doesn't matter when! It all depends on what time you feel most energetic.
Generally speaking, each of these weekly tasks may take around 15-30 minutes to complete. Feel free to adjust the tasks according to the right cleaning schedule for you!
Here are examples of a cleaning schedule for a working mom:
Monday: Clean Mirrors and Glass Doors
Give time blocking a try— allocate a specific time frame to clean these glass surfaces, and focus fully on this task within the set time.
Tuesday: Dust Bedrooms
Allocate time to dust the flat surfaces in your bedroom (and those in your kids' rooms) using a dry microfiber cloth. This will ensure the bedrooms aren't too dusty by the time the busy week comes to an end.
Wednesday: Vacuum Master Bedroom (and Other Rooms, If You Can)
Vacuum your bedroom and two more high-traffic rooms to prevent excess dust, dust bunnies, and debris build-up from taking over your floors for days.
This is where the iRobot vacuum comes in super handy. Take 5-10 minutes to pick up everything off the floor in a particular room, put the IRobot in the room and put it to work. Come back and get it in 45 minutes or so. This is one of the best time-saving tools out there, perfect for a working mom.
Thursday: Clean the Kitchen
Wipe down the dusty kitchen appliances and counters, and quickly clean the stovetop and microwave. Wipe down the kitchen cabinets. Then, sweep or vacuum the kitchen floor.
Friday: Clean and Tidy Up Living Room
Clear all clutter and trash from your living room, dust the furniture surfaces, spruce up the throw pillows, and quickly vacuum the carpet.
If you can do a little bit each day, this will help tremendously when it comes to keeping your house clean. Get our printable weekly cleaning schedule, this will help and create your schedule for working
Monthly Deep Cleaning Schedule for Working Moms
These monthly tasks involve deep cleaning — you'll tackle the nooks and crannies you don't usually clean during your daily and weekly cleaning tasks.
Remember, you're free to add your own monthly cleaning tasks to this cleaning schedule. I also suggest you deep clean one area at a time and break down the entire task into smaller, manageable chores.
For example, you can target to deep clean your bedroom on the first week of the deep cleaning month, then deep clean your kids' room on the second week, and so on.
And don't stress it — deep clean at your own pace. If you're packed with work and family responsibilities so that you barely have time for deep cleaning, consider seeking professional deep cleaning services, or just move them to a better time that suits.
Here are some examples of typical monthly tasks to include in your monthly cleaning schedule:
Week 1 of Deep Cleaning Month: Deep Clean the Kitchen
Break down the chores. In other words, write down the kitchen deep cleaning tasks you'll complete each day within that week.
For instance:
Deep clean and organize pantry
Deep clean your oven, not forgetting the range hood
Deep clean the kitchen windows
Deep clean the kitchen sink, including under the sink
Vacuum and mop the kitchen floor.
Wash the kitchen trash cans (an older child can help with this cleaning task)
Week 2: Deep Clean Living Room
Clean ceiling, ceiling fans, light fixtures, and walls
Dust and deep clean your wall art
Vacuum the couch and deep clean throw pillows (and removable couch covers)
Deep clean floors and baseboards
Deep clean the living room carpet and rugs
Week 3: Deep Clean Bathrooms
Deep clean the toilet, bath mats, shower curtains, bath towels, bathtub, shower head, bathroom mirrors, bathroom counters, and inside medicine cabinets.
Week 4 Going Up: Deep Clean Bedroom and Other Rooms
Deep clean picture frames.
Deep clean bedroom furniture.
Clean bed and bed linens.
Clean out closets.
Mop the floors.
Here Is the Cleaning Printable
Here is our simple cleaning schedule printable to help you plan your time.
Steps to Using Printable Weekly Cleaning Schedule for Working Moms
Ready to get your house clean and your life organized?
Start by printing out our cleaning schedule for working moms (free download). Sign up to receive the freebie, and you'll find these downloadable cleaning schedule pages in your inbox.
I encourage you to kick things off with the daily cleaning schedule first so you can establish a daily cleaning routine for a clean house. Then, try out the weekly cleaning schedule, and work your way up to the monthly cleaning schedule.
It's important that you take baby steps and figure out what cleaning schedule works for you.
Print out the printable cleaning schedule and start to fill it in slowly, so you don't overwhelm yourself.
Best Cleaning Schedule for Working Moms: Conclusion
So, busy moms, I hope this realistic cleaning schedule will guide you into establishing a cleaning routine that fits your busy schedule.
Without a working mom cleaning schedule, maintaining a clean home can feel like an uphill battle that tests your sanity in many ways.
But I'm convinced that just as this schedule changed everything for me as a working mom, it will do the same for you, too. You'll be able to keep your house clean even with your hectic work life.
And with your life now organized, thanks to this working mom cleaning schedule and the tips I've shared, you'll get to find time to focus on other important things besides keeping your home clean — like self-care and quality family time!
Frequently Asked Questions (FAQs)
How Many Hours Should You Spend On Housework?
This depends on a few key things — the size of your household and how clean you like your house to be.
But generally speaking, the most you should spend on housework every working day is about 1.5 hours. It's best if the daily tasks you handle take up no more than 1.5 hours of your time to avoid you getting burnout every other day.
I'm not talking about you blocking 1.5 hours of your day to clean, this includes you taking 5 minutes to load the dishwasher, or 10 minutes to wipe down countertops, or to fold a load of laundry.
I know my cleaning schedule for working moms will help you to create a realistic cleaning schedule that works for you!
Other Cleaning Articles You Might Like
Grainne Foley
Grainne Foley is a wife and mother of 2 great kids. During her 5 years of full time RV travel, Grainne learned to become very efficient at household chores, in order to make time for family adventures. Now, back in a house, she has continued to create tools and techniques to help others lighten the load of household organization and cleaning.