I know Pine Sol is meant to be used as a cleaning agent, but I never expected to use it for anything else! But Trust me, there are plenty of other ways to use this powerful cleaner beyond just mopping your hardwood floors! In fact, I've discovered some pretty unexpected uses for pine oil around the house!
We all know that pine sol works great for cleaning wood furniture, but did you know that there are many unexpected uses for pine sol?
Did you know that it can keep critters away from your trash can, or that it can deter your pets from peeing in your home, or that it works wonders with stubborn stains like cooking oil? Another unexpected use is to put it in the toilet brush container, to have a beautiful pine forest smell in your bathroom.
Keep reading to find all the different uses for pine sol, and why it should be a must-have in your home!
Unexpected Uses For Pine Sol
Here are 10 unexpected uses for Pine Sol that you may not know about:
Deters pets from peeing
Keeps animals away from your trash cans
Keeps pests away from your home
Keeps flies away
Removes paint from small objects, like miniature models
Keeps your bathroom smelling fresh
Freshens up your laundry room
Stain remover cooking oil can't even beat
Cleans your laundry
Kills pesky weeds
What Can I Clean with Pine Oil?
There are numerous pine oil uses in your home. You can clean walls, and nonporous surfaces, including floors, sinks, counter tops, stoves, bathtubs, shower stalls, tile, toilet bowls, garbage cans and diaper pails as well. It's safe on stainless steel and many other surfaces, especially when you dilute it.
So, you can use one bottle of Pine Sol throughout your home: in the kitchen, bathroom, living room, bedroom, laundry room, garage, floors, ceilings, and everything in between. It is even good for today's luxury vinyl plank floors. Just follow directions and do not soak the floor.
Original Pine Sol can also be used as a disinfectant, meaning that it can kill many germs ( including Salmonella enterica, Staphylococcus aureus and Influenza A virus) in your home. However, when using Original Pine Sol as a disinfectant, you will need to use it at full strength (meaning without diluting with water).
1. Pet Pee Deterrent
We all know that Pine Sol works great for cleaning hardwood floors, but did you know that you can deter pets from urinating in your home by using it to clean up the areas that the pets have soiled. You should always be using diluted pine sol, this you can do by using a mixture of ¼ cup Pine Sol and one gallon of water. Wipe the area with a mop or cloth immediately after the pet has contaminated the area. During and after using the disinfectant Pine Sol, always make sure that the pet cannot ingest the cleaner.
2. Critter Free Trash Cans
Are raccoons or other pests bothering your trash? Try using a mixture of equal parts of water and original Pine Sol in a spray bottle. Spray the diluted mix in and around your trash cans to repel the pests, like raccoons. You can also soak pieces of cloth or cotton balls in Pine Sol and leave them in and around your trash cans to keep pests away. Bonus, your trash cans will smell better too!
3. Keep Pests Away
The same mixture of diluted Pine Sol may keep other pests away. Leave pieces of cloth soaked in a small amount of Pine Sol in areas where you are trying to repel the pests.
4. Homemade Fly Spray
Are you heading outside to enjoy the weather? Or having problems with flies inside the house? Pour equal parts of Pine Sol and warm water into a spray bottle and mix. Spray the mixture on your deck, table, chairs, and cushions to keep flies away outside. Spray the mixture on your countertops, floors, or in areas indoors where you see the most flies to keep the flies away.
For the outdoors, you can also try a mixture with 80% Pine Sol and 20% of water to use to repel the flies, bees, yellow jackets, etc.
5. As a Paint-stripper
If you need to remove paint and don't have paint remover or want to use something that is safe on most surfaces, grab the pine oil. It will remove enamel, oil paint, and acrylic paint from small objects, like miniature models. Submerge the object in a jar or bucket with undiluted Pine Sol. Leave the object to soak in a well-ventilated area, and then use a toothbrush to wipe off the remaining paint.
6. Fresh Bathroom Scent
Do you want to keep your bathroom smelling clean in between regular cleanings? Fill your toilet brush container with your favorite scent of Pine Sol. Drop paper towels or cotton balls soaked with full-strength Pine Sol for additional freshness into the bathroom trash can. And now there's no need to purchase any air fresheners!
7. Laundry Room Scent
Similarly, you can use Pine Sol to deodorize and freshen up your laundry room. Soak paper towels, old pieces of lint-free cloth, a soft sponge or cotton balls in full-strength Pine Sol. Hang or place the soaked cloth (or paper towel or cotton ball) somewhere out of view. Now, your washroom will smell as fresh as the rest of your house.
8. Stain Remover
Pine Sol can help you with removing grease and other heavy stains from furniture and clothing. Use the cleaner at full strength and apply it directly to the fabric to pretreat stains. Let it sit for at least 10 minutes, and then wash the item per the fabric requirements.
Be careful to use Pine Sol only on whites and colorfast fabrics. To check if the fabric is colorfast, apply Pine Sol on a small area of material that is hidden. Let it sit for at least 15 minutes and check for color bleed.
If you see any changes in the color of the clothing, then the fabric is not colorfast, and you should not use Pine Sol with that item of clothing. If you do not see any changes in the color of the clothing, your fabric is colorfast. You can proceed to use Pine Sol on other parts of the material.
9. As a Laundry Cleaner
Pine Sol can be mixed in with your laundry detergent in your washing machine. Measure ½ cup of Pine Sol and add it with your soap when you load your washing machine.
Pine Sol is safe for many fabrics, including cotton and polyester. Adding it to your laundry can help with softening fabrics. It also boosts the power of your laundry detergent for extra cleaning power. As a degreaser, Pine Sol helps remove stains from greasy clothes. Of course, it also helps remove odors from fabrics so you can have fresher, cleaner clothing.
Be careful not to use Pine-Sol with dry-clean-only fabrics, silk, wool, or other fabric that may be delicate. Pine Sol could potentially ruin these fabrics.
10. Weed Killer
If you're tired of the weeds growing in the cracks around your driveway, you can try a mixture of equal parts of Pine Sol and water as a weed killer. Put the mixture into a spray bottle and spray the weeds.
You can also experiment with a mixture of equal parts of Pine Sol and Dawn dishwashing soap. Be careful not to spray any plants or grass you want to keep alive.
What Is Pine Sol?
Pine Sol is a concentrated, cleaning solution. The product is made from pine trees and so has a strong smell, the smell you get is from pine essential oil. This cleaner does not contain ammonia. Because it's concentrated and widely available, Pine Sol is a cost-effective solution for keeping your house clean. Use it in its diluted form with water to get the most value from your cleaning supplies.
What Should You Not Use Pine Sol for?
Do not use Pine Sol on "marble, aluminum, or wood that is unfinished, unsealed, unpainted, waxed, oiled or worn." Avoid using it on cars, as well. Using Pine Sol on food-safe surfaces is also not recommended. It should not be mixed with other cleaners.
Is Pine Sol safe? It is not safe for human or pet consumption, so just like any other cleaning supplies, keep it out of reach of children and pets. While it does have an amazing scent, as with any cleaner, avoid inhaling pine sol to any large extent.
Pine Sol is also considered an irritant, so use gloves and ensure that it does not come into contact with your skin for too long. And avoid getting Pine Sol in your eyes. You also want to ensure that you use Pine Sol in a well-ventilated area, especially when using it at full strength.
Do Bugs Like the Smell of Pine Sol?
No, bugs aren't fans of the smell of Pine Sol. This is why it works so well on repelling flies and cockroaches. Make up some fly sprays in a spray bottle and start spraying any unwanted critter or pest that dares to enter your home!
Will Pine Sol Keep Flies Away?
Yes, Pine Sol can keep the flies away. Try spraying an area or items within an area with a mixture of Pine Sol and water. They don't love the smell, so they will steer clear!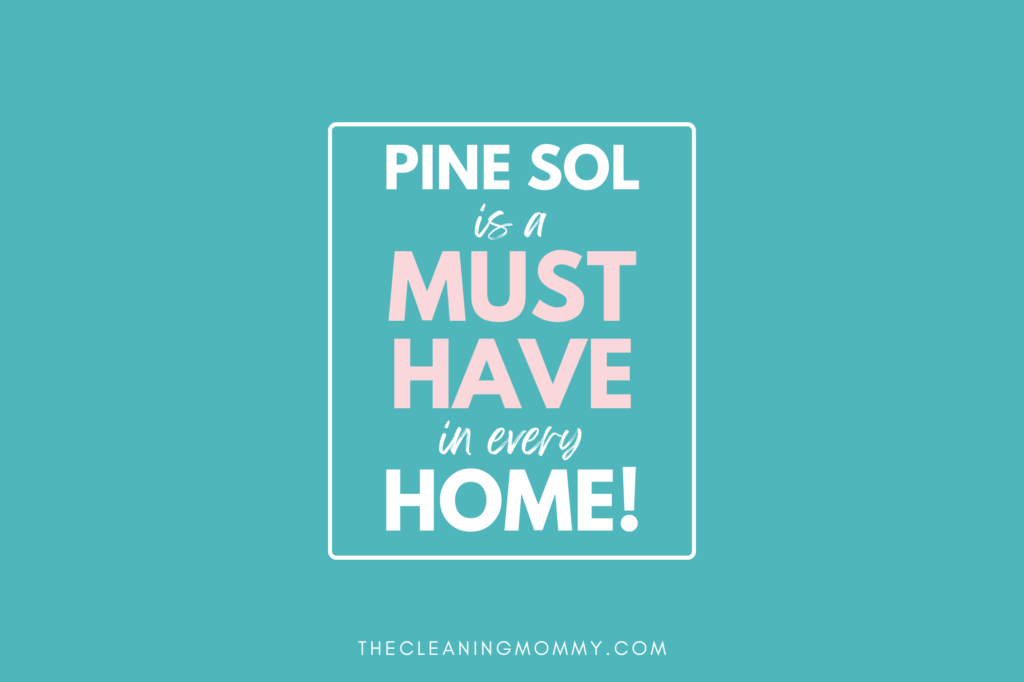 Can You Pour Pine Sol Down the Drain?
Pine Sol is safe to pour down the drain. It is also safe for septic systems. You can also safely pour it straight down your garbage disposal to remove odors. So, feel free to rinse your rags containing Pine Sol in the sink.
Can I Add Pine Sol to My Laundry?
Yes, you can. Pine Sol works as a degreaser. So you can use it as a stain remover and in your laundry. Use a sponge or cloth to add the Pine Sol directly to the stain. Add ½ cup of Pine Sol with the laundry detergent when you load your washing machine to clean your laundry. Note: Only add Pine Sol into your whites or colorfast loads to keep your clothing looking its best.
Pine Sol can also be used to clean the surfaces of your washing machine and dryer.
Go Forth and Use Your Pine Sol
Pine Sol is a versatile cleaner that can be used for many purposes around the house. I've shared some of my favorite unexpected uses for it that I only found out about recently. Who knew that pine sol could take care of your raccoon problem, or that it works well with uninvited stinging pests, it really can be used as a multipurpose cleaner! Its extremely effective with getting rid of critters from around your trash cans (I would buy it just for this purpose).
Did I miss any other uses for pine sol, if something isn't listed, I would love to hear it?
Other Cleaning Articles You May Like:
Grainne Foley
Grainne Foley is a wife and mother of 2 great kids. During her 5 years of full time RV travel, Grainne learned to become very efficient at household chores, in order to make time for family adventures. Now, back in a house, she has continued to create tools and techniques to help others lighten the load of household organization and cleaning.