Cut to the chase
How To Remove Lip Gloss From Clothing
Remove any excess lipstick from the garment.
Try an inconspicuous area first.
Pretreat the stain with one of the products listed below.
Wash the piece of clothing in warm water.
Repeat as needed.
Tumble dry or air dry your clothes.
Oh boy, so the inevitable happened and you got lip gloss on your clothes! So now you want to know how to remove lip gloss from clothing, or are you stuck with a big ol' lip gloss stain.
If you're a glossy lip gloss or lipstick fan, you're probably well aware of the struggle… You know what I'm talking about. The dreaded lip gloss or lipstick stain on your favorite blouse or jacket! Lip gloss stains can seem impossible to remove, and you might be asking yourself whether your favorite top is now ruined forever.
I'm here to show you the best ways to remove lip gloss stains from your clothes.
In this blog post, I'll walk you through some easy-to-follow steps to show you how to get lip gloss out of clothes.
Seriously, I have some great tips that will help you to remove lip gloss stains once and for all.
Can You Remove Lip Gloss From Clothes?
The simple answer here is yes, you can get lip gloss stains out of clothing. Though lip gloss stains might seem impossible to remove, most lip gloss stains can be removed without further damaging your clothes.
However, this is only possible if you use the right techniques and cleaning products. Most lip glosses are highly pigmented, and some colors, especially light-colored or clear lip gloss, might be easier to clean than others.
The most important step to removing lip gloss stains is to act quickly before the pigment settles into the fabric. You'll want to apply the stain remover to fresh stains to ensure that the blotch can be successfully removed.
There is a wide range of household products that you can use to remove lip gloss stains, including hairspray, ammonia, rubbing alcohol, Goo Gone, WD-40, and more.
You can also use milder products like liquid dishwashing detergent for delicate fabric.
Always remember to test each method on a small section of the stained area before applying it to the entire lip gloss stain.
So, without further ado, let me show you how to get lip gloss out of clothes quickly and easily.
How to Get Lip Gloss Out of Clothes
So, how do you get lip gloss off your clothes? Or a pillowcase, or a comforter?
Here's a list of some nifty ways to remove lip gloss stains that you can try.
Some methods work better than others, but there's no need to spend a fortune on cleaning products; you'll find that you'll have most of these products on hand.
Before you select a cleaning agent, you'll want to follow the steps below to prep the stained area for cleaning.
Step 1: Get rid of as much lip gloss as possible
Remove any excess lipstick from the surface of the garment. You can carefully brush off any lipstick residue with a clean white cloth or a brush. Be careful not to rub the lip gloss further into the fabric.
Step 2: Spot test
Do a spot test of an inconspicuous section of the lipstick stain by applying the product (see blelow) to a cotton swab and then rubbing it onto the affected area. If the product seems to work well, you can go ahead with pre-treatment. However, if the product does not seem to be compatible with the fabric or stain, try a different option.
Step 3: Pre-treat the stain
Pre-treat the stained area with one of the products listed below. You can apply any detergent that specifically focuses on oil or grease stains. Apply the fabric cleaner to the affected area and let it soak in for a few minutes before you wash your clothes.
Step 4: Wash the clothes
Wash the stained garment in warm water. Do not use cold water to wash the stain out of the clothes. Warm water activates the detergent and works well on oil-based stains. Launder the garment using the hottest water available on the washer. Just check the fabric care label to ensure that it can be washed with hot water.
Step 5: Check stain
Check the stained area for any signs of discoloration. If the stain was not fully removed during the first wash, pre-treat the stain again with a solvent and wash until it is entirely removed.
Step 6: Dry
Now that your clothes are spotless, you can air-dry or tumble-dry your garments.
14 Products That Work To Remove Lip Gloss Stains
The following list of products can be used to pre-treat your clothes to help remove lip gloss stains:
OxiClean
OxiClean is a powerful cleaning product that can be used to break down marks or stains and remove them from the surface of clothes. The product works well on a number of stains, be it a fresh stain, an old stain, stains on white clothes, oily or greasy food stains, make-up stains, or even a pesky lip gloss stain.
You can follow the steps mentioned above and apply a generous amount of OxiClean to the stubborn stains.
Always remember to scrape off any excess lip gloss before applying the fabric cleaner.
You can use a cloth, paper towel, or even an old toothbrus(works great) to remove all the excess lip gloss from the stain.
One thing you do need to know is that OxiClean should not be used on delicate fabrics like wool or silk and silk blends.
Dish Soap
Dishwashing soap is a well-known cleaning product that can be used to break down oily stains. This product works well for any oil-based or grease stain.
Simply apply the liquid dishwashing detergent to the stained area and allow it to sit for at least 5 minutes before you wash your clothes.
Dish soap is a great alternative to harsh chemicals and is considered to be a mild cleaner, which means it can work great to remove lip gloss stains from your delicates.
Dawn is always my go to dish soap.
If you have potent dish soap, you can mix it with some warm water. Apply the warm soapy water to the affected area using a cotton ball or damp cloth soaked with the solution.
Goo Gone
Goo Gone is an effective stain remover that works especially well on oil-based stains or grease spots. The liquid detergent is designed to fight grease with its citrus cleaning agents, which add a pleasant citrus smell.
When you use Goo Gone to remove stains, it's important to give the product some time to work its magic.
After you apply the liquid detergent to your lipstick stains, you should allow the product to sit for about 10-15 minutes before you rinse it off using soap and warm water, this will help to remove the stains easier.
Just remember that although Goo Gone can be used to clean some stubborn stains, it can sometimes leave a stain of its own.
However, these stains can be treated like regular oil stains; to remove the stain from your clothes, simply dab a little dishwashing soap on the spot with a cotton ball or cloth.
Liquid Detergent
Similar to dishwashing soap, liquid detergent is seen as a mild cleaner. It can be used to get lip gloss stains out of delicate fabric. However, if you feel that your liquid detergent is too potent for your delicates, you can always add a bit of water or vinegar to dilute it.
White Vinegar
White vinegar is a multi-purpose cleaner that can be used to clean stains, remove foul odors, and it has antibacterial properties that can be used to kill germs.
You can apply the white vinegar to your clothes with a sponge and then rub vigorously to remove the lip gloss stain.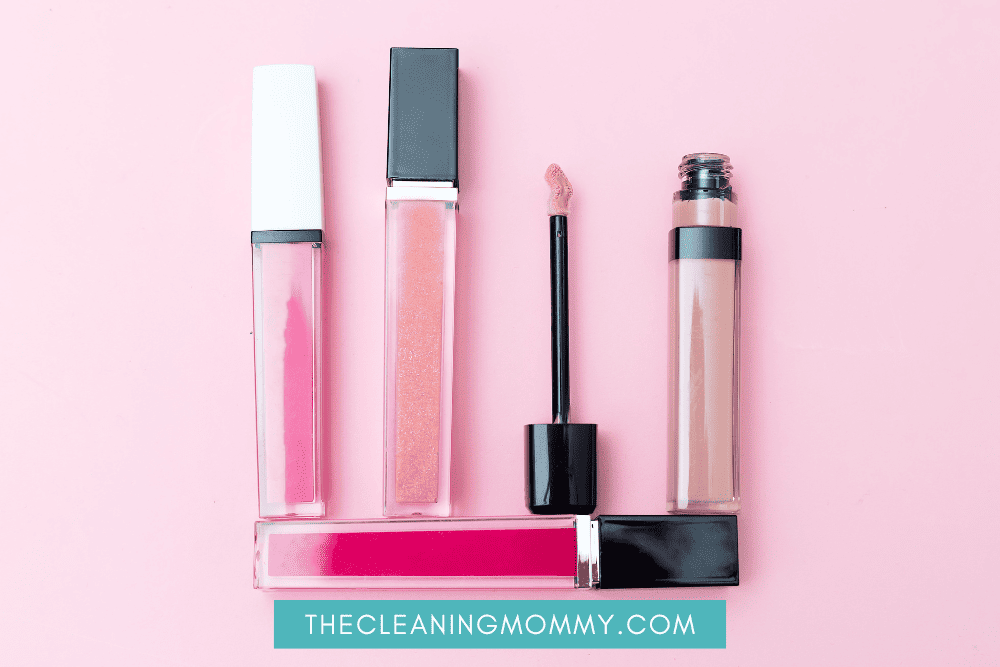 Hairspray
This might come as a surprise, but hairspray can be used to effectively remove lip gloss stains. The alcohol content of the hairspray is responsible for breaking down the stains.
Hairspray with a higher alcohol content will therefore be more effective in removing the lipstick from your clothes. If you do not have hairspray on hand and you have a baby in the house, try using baby wipes instead.
Baking Soda
Baking soda is also effective in removing lipstick stains. It is seen as a mild cleaner that can be used to clean delicate clothes. Baking soda does not only remove the stain, but it will also remove any bad odors from your clothes.
To clean the stain, dilute a cup of baking soda in a bucket of water and soak the cloth in the solution for at least 30 minutes.
If the lip gloss stain is very small or light, you can sprinkle the baking soda directly on the stain and rub the stain off with a brush, or make a baking soda paste to brush into the stain.
Rubbing Alcohol
Rubbing alcohol is probably one of the best solutions to get rid of any lip gloss stain.
There are two rubbing alcohol options: isopropyl alcohol and ethanol-based alcohol.
You can use both products to get gloss out of clothes. You can simply rub the alcohol directly onto the cloth.
If you are trying to clean more delicate clothes, you can dilute the alcohol with water and then use a cotton ball or damp cloth to dip and apply the rubbing alcohol solution to the lipstick stain.
You can also add some hot water to your clothes to make the cleaning a little easier.
Ammonia
Ammonia is a common ingredient in many household cleaning products. You can create an all-purpose stain remover at home with ammonia as the main ingredient, mixed with equal parts water and liquid laundry detergent.
Simply add the mixture to a spray bottle and use it to eliminate lipstick or other stains like grease, oily marks, and blood spots, or you can even use it as a carpet cleaning solution. If you are trying to remove lipstick with a darker hue, you can try to use ammonia directly on the stain.
Please know that ammonia has a pretty intense smell, so you'll need to wash your clothes with laundry detergent to remove the smell.
WD-40
WD-40 is a mixture of baby oil, alkenes, and Vaseline. The product works well to remove all kinds of stains from garments and can be used to remove lip gloss stains in under 5 minutes.
After applying the WD-40, if the stain is not completely removed, you can use a baking soda solution to lift the stain and then wash the cloth with laundry detergent.
Lemon Juice and Baking Soda
Another solution that can be used to remove a lip gloss stain is baking soda and lemon juice paste. Simply mix one tablespoon of baking soda with one tablespoon of lemon juice to create the baking soda paste, and then apply it to the lip gloss stain.
Allow the paste to sit for about 30 minutes before adding your garments to the wash. Dry your clothes in the sun for the best result.
Shaving Cream
Though this might seem a little weird, shaving cream is really good at cutting through the oily layer of lip gloss.
You can use shaving cream as a pre-washing solution by simply adding some shaving cream to a small bowl and then applying it directly onto the stained area using a clean cloth.
Allow it to sit for about 30 minutes before laundering your clothing as usual.
Peanut Butter
Wait, what? Can I use peanut butter to clean my lip gloss stain? Actually, yes!
The natural oils of peanut butter can help to dissolve the components of the stain. Just spread the peanut butter over the stain and let it sit for a few minutes until the peanut butter is dry, and then rinse it off with hot soapy water. You can repeat these steps until the lip gloss stain has vanished completely.
Salt and Vinegar
Another effective way to remove lip gloss stains from clothes is to use a combination of salt and vinegar. If you combine salt with vinegar, it improves the cleaning power of regular white vinegar.
However, take note that this method will only work on fresh stains and will not work on old and set lipstick stains.
It's also important to first remove all the excess lipstick before applying the salt and vinegar solution.
To remove the excess lipstick, try scrubbing the spot with an old toothbrush or try carefully scraping it off with something that has a flat edge, an old credit card works really well.
Then apply the solution to the affected area and let it sit for 15 minutes. Next, use a damp cloth to remove the solution and repeat the steps until the stain is successfully removed.
How to Remove Lipstick from Clothes That Have Been Through The Dryer?
If this has happened to you, don't worry, it's happened to most of us.
Who thinks to check, or who has time to check for a lip gloss stain before you wash your clothes!!!
To remove lip gloss stains after your clothes have been through the dryer, simply follow the steps below:
Apply dish soap to the affected area and brush it off with an old toothbrush.
Soak the clothes overnight, preferably in hot water, after you've worked each spot to remove any leftover stains or spots.
Run a hot cycle and toss the clothes into the machine with some laundry detergent.
After removing all the spots, line dry your garments.
Keep Lip Gloss Off Your Clothes
To prevent lip gloss stains from happening in the first place, there are some hacks that you can try.
Firstly, apply your make-up, including lip gloss, after you're already dressed for the day. Most lipstick stains happen when you get dressed, and the fabric touches your make-up or lip gloss as you move the shirt over your face.
Also, remember to first remove your make-up before you get undressed to avoid make-up smears on your clothing when you undress.
Finally, ensure that your lip gloss container is properly sealed when you put it in your pocket or your handbag, and be sure to empty your clothing pockets before you put your clothing items through the wash.
Conclusion
Lip gloss stains are quite common and the thought of trying to remove a lip gloss stain from your clothes might send you into a tailspin.
Don't panic.
So, if you are looking for ways how to get lip gloss out of clothes, the above methords work really well.
You will have squeaky clean, and stain-free clothes in no time.
Do you know of any other alternatives for how to remove lip gloss from clothing? Let me know in the comment section! I'd love to hear from you!
Also, if you found this article helpful, feel free to share it with some of your lipstick fanatic friends.
Frequently Asked Questions About Lip Gloss Stains
What is the composition of lip gloss?
All lip gloss formulations use natural or synthetic thickeners. It's what permits them to stay on the lips without slipping off. Beeswax is a typical natural thickening that contributes to the gloss's desired consistency. Read more here.
Is every brand of lip gloss the same?
No, they are not. Various components are utilized to produce different types of lip gloss, just like any other designed product. Companies can add or remove components to produce a one-of-a-kind product offering to the market.
Why can't I just toss the item in the laundry?
The thickening ingredient that causes lip gloss to adhere to the lips needs to be removed. If you don't pretreat the stain before you put the piece of clothing in the washing machine, it will remain on the clothes.
Before machine washing clothing that has traces of lip gloss on it, you need to always pre-treat it.
What other kinds of makeup stains are difficult to remove?
One of the most difficult substances to remove from garments is the foundation. A bronzer can also be an issue. Because of the color and thickness of the cosmetics, they are difficult to remove from clothing.
So make sure you remove yoru makeup before taking off your clothes, other wise a make up stains may easily happen.
Is handwashing as good as machine washing?
Yes, handwashing is a great way to work up your muscles, if you put a lot of time and effort into the procedure, it may be as successful as machine washing.
Before leaving the clothing to air dry or putting it in the dryer, wash it in a sink or plastic basin with warm water and laundry detergent.
Should I toss away damaged clothing?
If the stain is obvious and you've tried everything above, you could maybe cover the stain up with bright patches or embroidery, or just use the piece of clothing as a rag.
What removes lipstick from fabric?
Rubbing alcohol may be effective at removing lipstick stains from clothes (if appropriate for the fabric). Dampen a cotton ball or clean white cloth with rubbing alcohol. To remove lipstick stains from clothes, blot the spot with alcohol.
Does toothpaste get rid of lipstick?
Toothpaste removes lipstick, grass, and ink stains from clothing, carpets, and walls. Apply a little amount of toothpaste, carefully rub it in, and rinse promptly. Repeat until the stain has vanished.
As inconvenient as lipstick-stained clothing may be, removing lipstick from clothing is really a rather simple process. If none of the above procedures work to get lipstick out of garments, it is strongly advised that you take the item for dry cleaning.
Other Cleaning Articles You May Like:
Grainne Foley
Grainne Foley is a wife and mother of 2 great kids. During her 5 years of full time RV travel, Grainne learned to become very efficient at household chores, in order to make time for family adventures. Now, back in a house, she has continued to create tools and techniques to help others lighten the load of household organization and cleaning.